Delivery is only once a week to your area(check delivery days posted below for more details)
In order to guarantee delivery. All orders must be placed 2 business days prior to delivery date, in your area !
BY PHONE:
Call and place your order with us at

Local Phone Number -(
Call Toll Free Today -
If someone is not available to answer, leave a message with your name and phone number. we will contact you as soon as possible to receive your order.
Telephone hours are from 9:00 a.m. to 4 p.m. daily.
Delivery Schedule
Mondays - Greater Victoria (every second week)
Tuesday - South Surrey, White Rock, North Surrey, Delta, Tsawwassen, Langley, Cloverdale, Ladner, Richmond
Wednesday - Vancouver, UBC, North Vancouver, West Vancouver
Thursday - Coquitlam, Port Coquitlam, Maple Ridge, Mission (every second week), Chilliwack, Abbotsford
Friday - Burnaby, New Westminster
Saturday - No Deliveries
Sunday - No Deliveries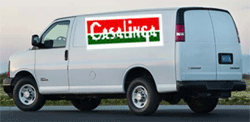 Deliveries times are usually between 8 am to 12 noon
All orders under $40.00 are subject to a $5.00 delivery fee.
---
Pick Up Orders
Meals can also be picked up during office hours at Casalinga Food Services 7624 Winston Street in Burnaby. Pick up orders must placed at least 1 day in advance so we can guarantee your order will be ready.
Office Hours are 9:00 am - 5:00 pm Monday to Friday.